We're happy to say summer is finally here, and with it comes a host of exciting activities, including running events, cycling races and, of course, colour runs.
What makes a colour run different from traditional running events, you ask? Well, the vibrant burst of colour powder for a start!
Here at Running Imp, we have repeatedly been the supplier of choice for colour run organisers, providing all of the essentials that enable them to host hugely successful events.
So, given our experience in planning such unique events, we wanted to give you our 5 top tips on making your colour run stand out from the crowd.
Tip #1 - Carnival Colour Run!
Combine the fun of the carnival with the exhilaration of a colour run!
By adding the carnival atmosphere to your colour run, there will be something for everyone to enjoy, participants and competitors alike.
You can set up carnival stalls with traditional fairground games and prizes, photo booths with playful backdrops and fun props to give visitors something to remember their fun-filled day.
Offer carnival food staples such as candy floss, popcorn and ice cream and even have rides for visitors to enjoy throughout the route!
Your carnival colour run will be a day out that the whole family will love. By providing an abundance of carnival-style entertainment and even live performers, your colour run experience will be truly elevated.
Tip #2 - Colour Run Scavenger Hunt
Add to the thrill of your colour run by incorporating a scavenger hunt.
Create checkpoints along the route of your colour run where participants can complete puzzles or mini-games that reward different coloured tokens that represent each checkpoint visited.
Eventually, getting to a final clue leads participants to a hidden checkpoint where they can collect a victory medal or trophies for those that gathered all of the tokens first!
By adding an extra incentive to your participants, you'll be sure to bring out a fun, competitive spirit in everyone involved.
Tip #3 - Colour Run Relay
Make your colour run a team event!
Encourage your participants to work together in groups of four; each member of the team is represented with a different colour and will run different legs of the route.
With the course divided into different sections, it could even help encourage more people to get involved who may otherwise have struggled to run the entire length.
Each team has to pass a coloured baton throughout the run, and each stage is presented with a burst of colour powder to match the runner, adding an extra layer of excitement.
Once the final leg of the run is completed, teams can gather to celebrate with one final multi-coloured explosion!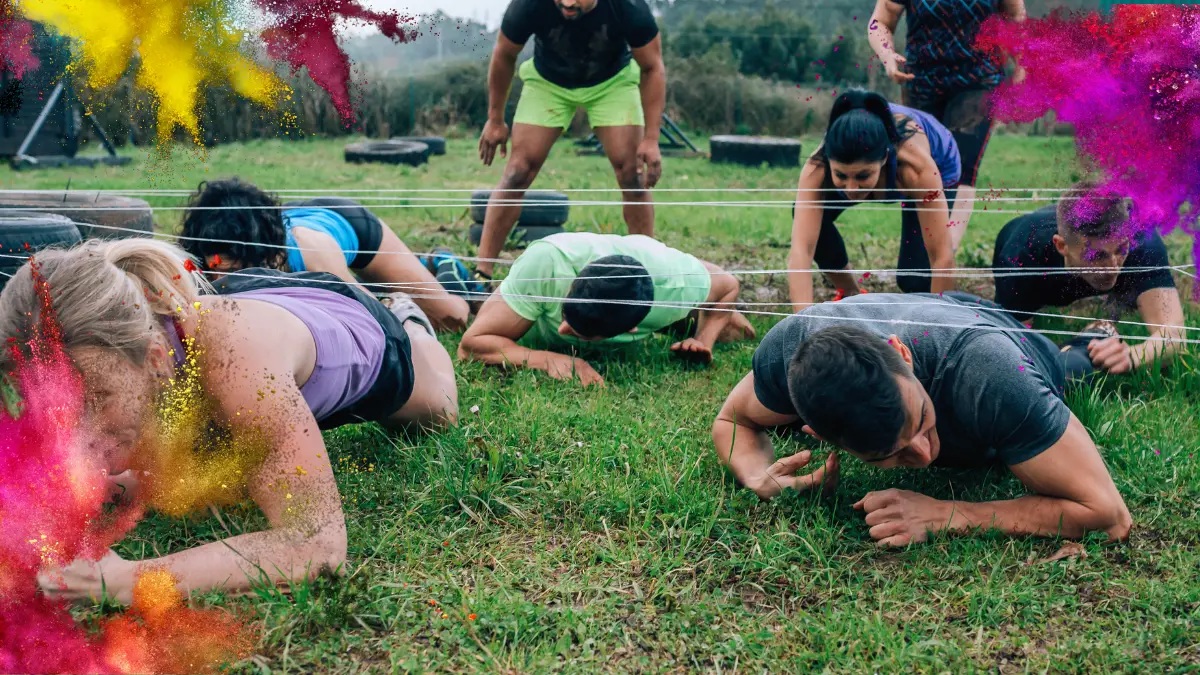 Tip #4 - Obstacle Colour Run
Think Ninja Warrior meets colour run, and you're onto a winner!
Truly, a colour run with a twist, adding fun, colourful obstacles to your course, is sure to up the excitement level.
You could add any or all of the following to your course:
By placing different, vibrantly coloured obstacles throughout the course of the race, you can create a wonderfully immersive experience for your competitors and shower them in colour powder along the way, of course.
Tip #5 - Colour Run Celebration
Hold an extra special celebration party once your colour run has ended.
Obviously, no party is complete without some well-deserved delicious food and drink. You could serve colourful cakes, mocktails and other tasty treats that everyone can enjoy.
Finally, conclude your colour event with a medal ceremony, where participants can be rewarded with a treasured memento of their accomplishment, complete with live music and fireworks or a light display!
What better way to celebrate your colour run than with a colour blast finale!?



A Colour Run to Remember
Using any of our top colour run ideas is sure to give your attendees a truly memorable experience!
Also, any of the ideas listed above can easily be used to incorporate fundraising into your colour run; that way, everyone involved can have fun whilst helping to support a good cause.
If you want to find out more about any of our colour-run products, please explore the range on our website or feel free to contact us to discuss your requirements.
And don't forget, if you are planning or participating in a colour run this summer, let us know by sharing any photos of your event and medals to our Running Imp Facebook, Twitter or Instagram page using #ColourRun2023.